Since open-sourcing GreptimeDB on November 16th of last year, we quickly claimed the #1 spot on GitHub's trending list the very next day. We've since been featured multiple times on the list, underscoring our substantial progress in our mission to offer a swift, efficient, cloud-scale time series data infrastructure.
Thanks to our incredible community, as of August 29, 2023, we've amassed over 3,000 stars and 191 forks on GitHub, all in less than a year since our initial release!
A big Thank You to All Community Members ​
We want to extend a huge THANK YOU to the community for your contributions, support, and participation—from providing feedback and answering questions in Slack to reporting bugs and contributing code.
A special thanks to our two external Committers, Eugene and Niwaka, for their continuous support of coding and our activities. In the same vein, our 37 external contributors, coupled with the insights and feedback from our broader community, have significantly enhanced the robustness and maturity of the GreptimeDB project.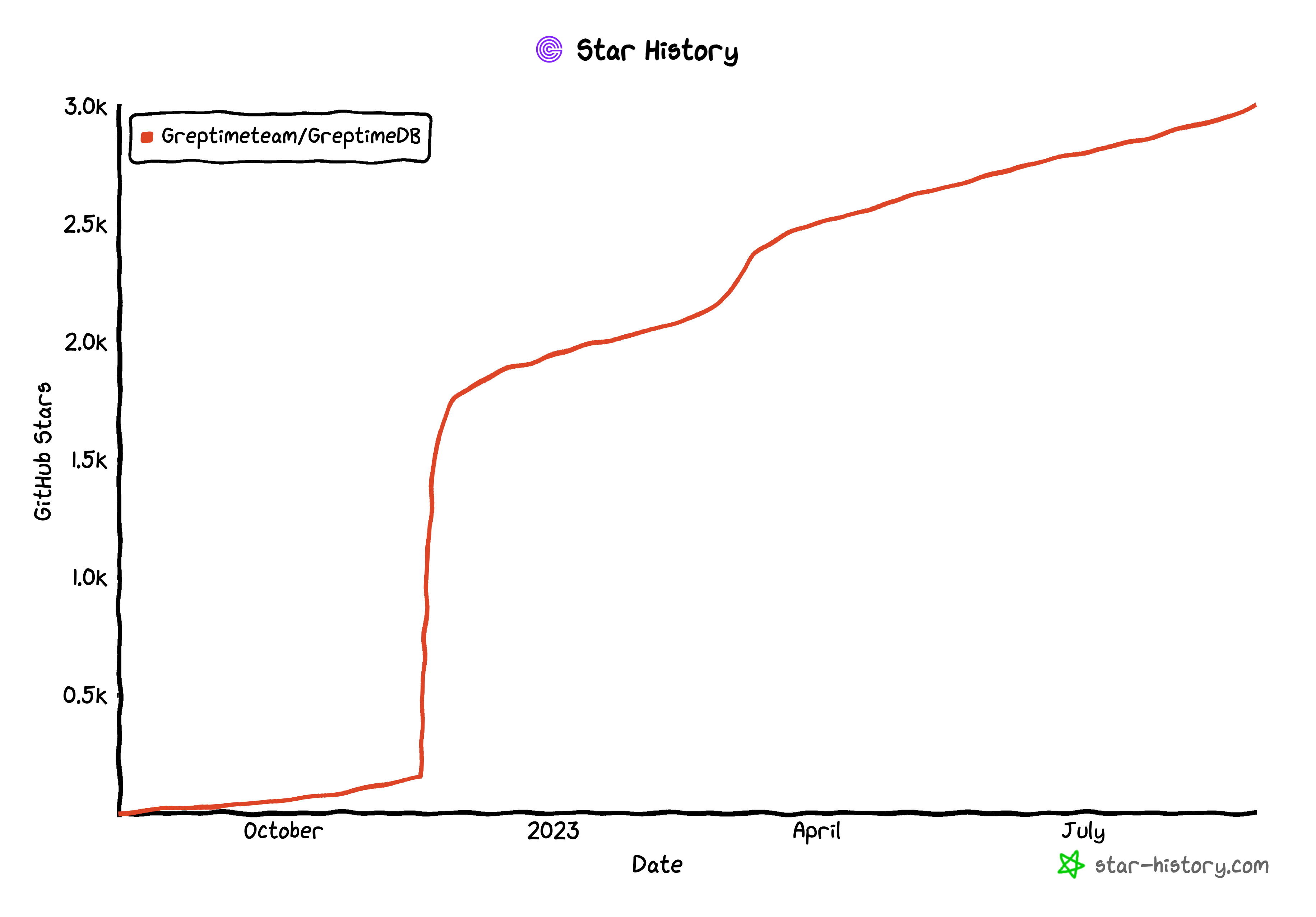 Since GreptimeDB open-sourced, we've collectively achieved:
3000 stars
191 Forks
1462 Commits
39 External Contributors
2 Committers
Thank you for your contributions, participation, and support of the GreptimeDB community!
Product Iteration Timeline ​
Reflecting on the milestones we established at the close of last year, we're making consistent progress toward our objectives.
Below lists some notable versions released since our initial release.
GreptimeDB ​
On March 8, 2023, GreptimeDB v0.1 was officially released with support for Compaction, Python, PromQL, and object storage.
On April 19, 2023, GreptimeDB v0.2 was released with maintenance upgrades to its existing features.
On June 7, 2023, GreptimeDB v0.3(current version) was released, featuring advanced optimizations in the following three areas (details can be found in the linked article for v0.3):
Distributed performance optimization;
Query capability enhancement;
Stability enhancement.
GreptimeDB v0.4 is set to release soon. For more new features and updates, please stay tuned to the official Greptime website.
GreptimeCloud ​
GreptimeCloud is a fully-managed serverless, Prometheus-compatible time-series cloud database service that can seamlessly integrates with GitOps-enabled alerting and dashboarding. As a DBaaS (Database as a Service) product, GreptimeCloud places greater emphasis on user experience and cost-effectiveness.
On March 15, 2023, GreptimeCloud officially began accepting applications for its beta testing. Built upon the foundational development architecture of GreptimeDB, GreptimeCloud emerged to support multi-tenant clusters. It boasts features like automatic data sharding, parallelized queries, execution of custom functions like Python scripts, and compute-storage separation without compromising performance. More designing principles behind GreptimeCloud can be found in this article.
On June 30, 2023, GreptimeCloud officially announced its public tech preview (for detailed information, please refer to this article). This new version is a hosted Prometheus solution based on the powerful Serverless DBaaS architecture. This update brings wider compatibility, Prometheus rules managed with GitOps principles, and enhanced visualization tools.
An enhanced version of GreptimeCloud, packed with additional features, is coming soon. For the latest updates, please keep an eye on the official Greptime website or subscribe to our newsletter!
Future Prospects ​
We plan to launch GreptimeDB v0.4 in the near future, this is set to be a preliminarily stable version that we encourage users to give a try in production environments.
Some of the key features include:
Continuous refinement of test cases based on chaos engineering, ensuring that v0.4 offers even more reliable distributed robustness.

The introduction of the Mito2 storage engine, specifically optimized for time-series data, offering enhanced data ingestion and query analysis capabilities.

Following the release of v0.4, we will release a minor version featuring the Metric Engine, specifically designed for massive metric scenarios in Observability, built upon the Mito2 storage engine.
The ongoing goal for GreptimeDB is the development of a flexible ServerlessDB architecture. Recognizing that database autonomy represents the future, we are intensifying our investments in this domain. By integrating it with smart scheduling technologies, our goal is to seamlessly transition to a safely auto-piloted database system.
We invite you to support us on GitHub by giving GreptimeDB a star, you're also welcome to download and explore our product. Your feedback and suggestions are invaluable to us. Join our Slack channel to engage with our technical team in related discussions. We eagerly await your insights!